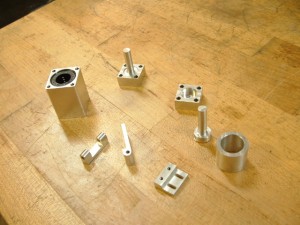 Precision CNC machining for your commercial industry from our machine shop in Keller, Texas. IMF and Assembly makes the precision parts your production or application needs. We design, machine, and create the electronic boards, cage frames, or any other mechanical part you may need to integrate with your product or to test your product. We have an excellent eye for creating that hard to design part and can design the part for you within you specs, or create a part you have designed for your application.
If your needs are a one of a kind component or large production runs, we can handle that.
If your needs are a simple holding fixture, or a complex electro-mechanical test assembly, we can design and manufacture that.

We design, manufacture, and machine any part or set of parts you need to build your end products, or testing systems for your products. Our highly trained design team will review your designs and assist in any specification changes that are needed before the production process.
Our CAD design and manufacturing teams and tools include SolidWorks and Mastercam for machining our parts from metal, aluminum, plastic and other raw materials used in creating the parts or part for your application.
Find out how IMF and Assembly can benefit your facility by contacting our CNC machine shop today.